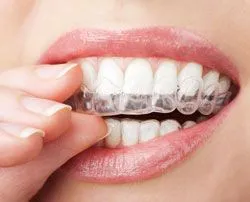 Traditional braces are necessary when a dental patient has major cosmetic issues, like a severe overbite or major crowding. But if a patient has a few minor tooth imperfections, like a slightly crooked smile, small gaps or teeth that have moved out of position, Clear Aligners clear aligners may be an option.
Clear Aligners
Although they're often called braces, Clear Aligners is actually an orthodontic system that uses a set of clear plastic trays to align the teeth into a better position. The trays are designed to fit over each individual patient's teeth, so they must be custom-designed. This system was first introduced to the world in the late 1990s and is now helping millions of dental patients across the world achieve their ideal smiles.
How Does Clear Aligners Work?
Instead of the metal brackets and wires of traditional braces, Clear Aligners uses a series of clear, removable plastic trays – called aligners – to straighten the teeth. These aligners fit directly onto the teeth and are virtually invisible when worn, and they're easy to remove for eating, drinking, and oral hygiene.
Benefits
Nearly-invisible appliances

No dietary restrictions

No obstructions to flossing or brushing

Controlled single-tooth movement
The goal is to give each patient a comprehensive experience, ensuring that they have beautiful, healthy teeth for a lifetime.
For more information on Clear Aligners® call Lake Oswego Smiles at (503) 635-3653 today!