Posts for tag: root canal
By LAKE OSWEGO SMILES
February 05, 2019
Find out the common dental symptoms that may require root canal treatment.
If you are noticing some alarming changes in your oral health, you may be wondering what's going on. You may even wonder whether or not you need to turn to our Lake Oswego, OR, dentist, Dr. Colin Smith, for care. Read on to learn more about root canal therapy and the warning signs that may mean it's time to give us a call.
What To Look Out For
The most common symptoms and signs that point towards needing a root canal include,
Severe tooth pain that's worse when chewing or biting down on the tooth
Lingering tooth sensitivity particularly to hot or cold
Darkening of the tooth
Swelling of the gums surrounding the tooth
The development of an abscess (a pimple-like growth on the gums)
It's important to understand that while a toothache doesn't necessarily mean that you will need root canal treatment, it is a common warning sign. Either way, dental pain is your mouth's way of saying that something is wrong, whether you are dealing with decay or infected dental pulp. Since a toothache does constitute a dental emergency, you will need to come in right away for an evaluation.
What Is Involved in a Root Canal?
A root canal is an endodontic procedure in which our Lake Oswego, OR, general dentist will need to go inside the tooth to remove inflamed or infected dental pulp (the soft connective tissue and nerves within the tooth). Dental pulp can become inflamed or infected by severe decay, pervasive bacteria, or a traumatic injury. Once the dental pulp is affected, the only option is to remove it.
Before we remove this pulp we will thoroughly numb the area around the tooth to reduce any discomfort. This can be a major relief for our patients who've been dealing with massive tooth pain. Plus, once the pulp has been removed, the toothache will be gone immediately. Once the area is numb, we will simply remove the dental pulp and clean out the inside of the tooth to remove any bacteria.
Once the tooth has been thoroughly disinfected, we will seal up the root canals to prevent bacteria from getting in them. We will also apply a special material inside the tooth to seal it up before placing a dental crown. The dental crown is designed to strengthen the tooth's existing structure.
Concerned? Give Us a Call!
Are you experiencing any of the symptoms above? If so, it's important that you schedule an appointment with the dental experts at Lake Oswego Smiles by calling (503) 635-3653. Let us alleviate your dental discomfort!
By Lake Oswego Smiles
April 17, 2014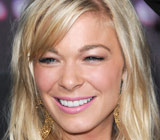 Singer LeAnn Rimes was forced to cancel a string of performances recently, as a more pressing engagement came up: a late-night meeting with her endodontist. It turned out that the country-pop star needed some emergency dental work performed while she was on tour. But her die-hard fans needn't have felt left out — Rimes faithfully tweeted each stage of her dental treatment.
The trouble began before she was scheduled to play a show in Ohio. "Waiting on the endodontist to meet me and do a nighttime root canal," she informed her twitter followers. Instead of performing, Rimes was advised to spend the next few days resting after the emergency treatment. "Happy Friday! I'll be spending mine in bed," she tweeted after the previous evening's procedure. The following Monday, Rimes returned to the dentist's chair for follow-up treatment.
It turned out that the singer had been battling dental pain for months. "I am so disappointed that I can't make it to my fans tonight." Rimes explained in a statement. "I had wanted to give them the show they deserved and only wish this tooth pain held out a little longer."
If there's a moral to this story, it's this: If you have tooth pain, don't wait to see a dentist. Call us right away!
A feeling of constant pain and pressure in your mouth is a clear indication that you may need a root canal. Another telltale symptom is sharp pain when you bite down on food, or lingering pain after eating something hot or cold. Not every symptom is as clear-cut, however — the only way to know for sure whether you need treatment is to come in for an evaluation.
Pain in your teeth or gums may be a symptom of a serious condition. Even if the pain goes away temporarily, an underlying infection generally does not. If a treatment such as root canal therapy is needed, the sooner it is obtained, the better you'll feel. And remember, root canal treatment doesn't cause tooth pain — it relieves it!
If you have any concerns about tooth pain, please contact us or schedule an appointment for a consultation. You can learn more in the Dear Doctor magazine articles "I'd Rather Have a Root Canal" and "Signs and Symptoms of a Future Root Canal."