Posts for tag: orthodontic treatment
By Lake Oswego Smiles
April 20, 2020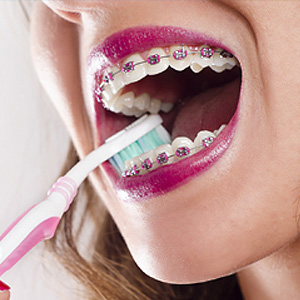 Straightening your smile doesn't happen overnight—it can involve months or even years of orthodontic treatment. And although the end result is well worth it, the long process can make it difficult to keep your gums healthy, especially while wearing braces.
Gum swelling in particular is a common problem for braces wearers with two potential sources. First, orthodontic hardware makes it difficult to keep teeth clean of dental plaque, a thin bacterial film that can cause gum disease. Plaque and its hardened counterpart tartar can trigger a gum infection, which in turn triggers inflammation. As a result, affected gums appear swollen and red, and can easily bleed.
Gum tissues may also react to braces pressing against them and develop hypertrophy (or hyperplasia), an increase in individual tissue cell growth. If this overgrowth occurs, it may not get resolved until after your braces have been removed.
As long as the hypertrophy doesn't appear to have weakened gum attachment with the teeth, it's usually not a big concern. But what is a concern is that hypertrophy could increase a braces wearer's difficulties with oral hygiene and give rise to a true gum infection that could endanger dental attachment. Advanced cases could require surgical correction or removal of the braces altogether to adequately treat the infection.
The best way to avoid a worst case scenario is to be as diligent as possible with daily brushing and flossing. Fortunately, there are several tools that can make it easier with braces. Interproximal brushes, tiny brushes that can fit into the narrow spaces between the teeth and the braces, can be used in conjunction with your regular toothbrush.
Flossing is also easier if you use a floss threader or a water flosser. The latter utilizes a pump to emit a pulsating jet of water to break loose plaque between teeth and flush it away. Clinical studies have shown the effectiveness of water flossers for removing plaque in braces wearers as opposed to not flossing at all.
A faithful daily hygiene practice and twice-a-year cleanings and checkups with your regular dentist can help minimize your chances of gum swelling. Doing so will help ensure you'll complete your orthodontic treatment on the way to healthier and more attractive smile.
If you would like more information on teeth and gum care while wearing braces, please contact us or schedule an appointment for a consultation. You can also learn more about this topic by reading the Dear Doctor magazine article "Gum Swelling During Orthodontics."
By Lake Oswego Smiles
February 20, 2020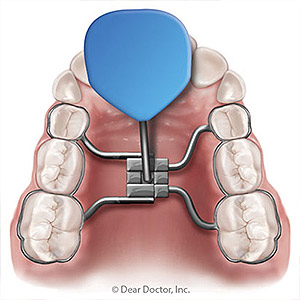 Every year many parents learn their "tweenager" or teenager needs their bite corrected, often with specialized orthodontics. Imagine, though, if these families could go back in time to when their child's poor bite was just developing to stop or slow it from forming.
Time travel may still be science fiction, but the approach suggested isn't. It's called interceptive orthodontics, a group of techniques and procedures performed during the early stages of jaw development. The focus is usually on getting abnormal jaw growth back on track, enough so that a poor bite won't form.
The upper jaw, for example, may be growing too narrow, reducing the amount of available space for tooth eruption. If it isn't corrected, teeth can erupt out of position. To correct it, an orthodontist places a palatal expander in the roof of the child's mouth (palate). The appliance applies gentle pressure against the inside of the teeth, which stimulates the jaws to develop wider.
The expander works because of a separation in the bones at the center of the palate, which later fuse around puberty. The pressure applied from the expander keeps this gap slightly open; the body then continues to fill the widening expansion with bone, enough over time to widen the jaw. If you wait until puberty, the gap has already fused, and it would have to be reopened surgically to use this technique. Ideally, then, a palatal expander should be employed at a young age.
Not all interceptive techniques are this extensive—some, like a space maintainer, are quite simple. If a primary (baby) tooth is lost prematurely, teeth next to the empty space tend to drift into it and cause the intended permanent tooth to erupt out of place due to a lack of space. To prevent this an orthodontist places a small wire loop within the space to prevent other teeth from moving into it.
These are but two examples of the many methods for stopping or slowing a developing bite problem. To achieve the best outcome, they need to be well-timed. Be sure, then, to have your child undergo an orthodontic evaluation around age 6. If an interceptive orthodontic approach is needed, it could eliminate the need for more extensive—and expensive—treatment later.
If you would like more information on treatments to get ahead of bite problems, please contact us or schedule an appointment for a consultation.
By Lake Oswego Smiles
June 11, 2014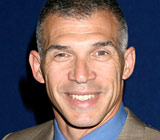 Sometimes, we all need a bit of prompting to do what's good for us. When Serena Girardi, the 10-year-old daughter of New York Yankees manager Joe Girardi, needed to have orthodontic treatment, she was a little nervous. To help lessen her anxiety, Girardi, then 45 years old, made a deal: if she got braces, then he would too.
"What I didn't realize," said Girardi in an interview with ESPN, "is that she only had to get four on her front teeth and I got the full mouthful."
But that didn't stop the baseball great from keeping up his end of the bargain. In a separate deal with his son Dante, who also needed braces, Girardi agreed to wear blue rubber bands. "It's a good look," he said. What will he do if his third child needs braces? Stay tuned...
Whether it starts as a bargain with your kids or as a promise to yourself, orthodontic treatment can offer real benefits at any age. In fact, about one out of five orthodontic patients today is an adult. Studies have shown that up to three-quarters of all adults have some form of orthodontic problem, like drifting or crowding of teeth. And having a great-looking smile not only improves self-confidence, but can also boost an adult's social life, and even enhance his or her career opportunities.
If you or your child may need braces, but you're put off by the dreary metal hardware you remember from back in the day, take heart! Plenty has changed in the field of orthodontics since you were a teenager — and it's not just the color of the rubber bands.
In many cases, clear or colorless ceramic braces can be used instead of metal ones. These stain-resistant orthodontic appliances blend in well with your own teeth, making them much less evident. It may be possible for them to be placed on the lingual (tongue) side of the teeth, where they're even less visible.
Clear aligners offer an alternative to braces that's appropriate for some people. Aligners are a series of precision-made "trays" composed of polyurethane plastic. Worn 20-22 hours per day for a period of months, these appliances gradually move teeth into an improved position. Besides being virtually invisible, another advantage of these trays is that they may be removed for eating and for important occasions. Once recommended only for adults, they have recently become available to teenagers as well.
What's the best way to find out whether you or someone in your family could benefit from orthodontics, and which treatment option best suits your individual needs? Come in to our office for a consultation! After a thorough examination, we would be happy to recommend the most appropriate treatment methods for your particular situation.
If you have questions about orthodontic treatment, please contact us or schedule an appointment for a consultation. You can learn more in the Dear Doctor magazine articles "Orthodontics For The Older Adult" and "Clear Aligners for Teenagers."