Posts for tag: gum disease
By LAKE OSWEGO SMILES
April 18, 2019
Could puffy gums be the first sign that you have gum disease?
It's an unfortunate reality that many Americans end up dealing with gum disease every year. It's even more unfortunate that many of them
don't even know it until they visit our Lake Oswego, OR, dentist, Dr. Colin Smith, for a regular checkup! Of course, there are some warning signs that may alert you to the fact that your gums aren't as healthy as you may have thought. Some of the common symptoms of gum disease include:
Bleeding gums when you brush or floss
Red, swollen gums
Gums that are tender to the touch or sore
Receding gums (teeth may appear longer than usual)
Persistent and unexplained bad breath
Loose teeth or tooth loss
Changes in your bite
If you are experiencing any of these symptoms, it's important that you schedule an appointment with our general dentist in Lake Oswego, OR. A simple oral exam is often all that's needed to pinpoint gum disease. Plus the sooner gum disease is detected, the easier it is to treat.
Early Treatment is Key
While the goal should always be to prevent dental issues from happening in the first place, if there is something going on, it's important that we find it early on. In fact, if gum disease is caught during the early stages when it's still just gingivitis, it can actually be reversed. This is why it's a good idea to turn to us at the very first sign that your gums have changed.
If gingivitis isn't treated this can lead to full-blown gum disease. In more advanced and serious cases, untreated periodontal disease can lead to tooth loss and bone damage.
How to Prevent Gum Disease
There are simple everyday measures that you can take to ensure that your gums remain healthy. Proper oral hygiene is key, so make sure to brush and floss on a daily basis to reduce gum disease-causing plaque and bacteria. You should also visit your dentist every six months for cleanings and checkups. As we mentioned earlier, sometimes gum disease doesn't cause symptoms, so coming in for these checkups is the only way to catch it early on.
Concerned? Give Us a Call!
Our Lake Oswego, OR, dental team wants to make sure that your gums get the proper care they need. No matter whether you need to schedule a routine cleaning or you are looking for ways to effectively manage your gum disease, call Lake Oswego Smiles today at (503) 635-3653.
By Lake Oswego Smiles
December 30, 2013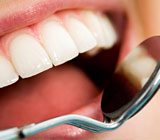 While hygiene and regular dental care go a long way to reduce your risk of oral disease and disorders, you're still subject to your heredity. Everything from tooth alignment to the shape of your jaws is determined by your genes.
So is the biological structure of your gum tissue. Aside from minute variations, gum tissue structure falls into two broad categories — "thin" or "thick," which refer to the actual thickness of the tissue and the underlying bone. The tooth's appearance is the best indicator of which type you may have: those with more triangular-shaped tooth (often called scalloped) have thin gum tissue; a person with a squarer appearance (flat) has thick gum tissue. People of Asian descent tend to have thin/scalloped tissue while those with European or African heritage tend to have thick/flat tissues.
Thick gum tissue isn't superior to thin, or vice-versa. In fact, each type is susceptible to certain types of diseases or adverse conditions.
Thin tissues are more susceptible to the occurrence of receding gums. Caused mainly by periodontal disease and toothbrush abrasion, the gum tissue recedes and exposes more of the unprotected tooth surface that should be below the gum line. This increases the risk of decay and tooth loss. Patients with thick tissue, on the other hand, have a higher risk of developing a condition known as "pocketing." As the thicker gum tissue becomes inflamed from dental plaque, it loses its attachment to the teeth and forms a small pocket. The end result is possible bone and tooth loss.
There's not much you can do about which type of gum tissue you have, for which you can thank (or blame!) your ancestors. But there's something you can do to reduce your risk of periodontal disease. First and foremost, you should practice good daily hygiene, brushing with a soft-bristled tooth brush and gentle flossing. It's also important to maintain regular cleanings and checkups in our office; not only will this ensure complete plaque and tartar removal, but gives us a better chance to detect either receding gums or pocketing early. Earlier detection can mean better treatment outcomes — and a saved smile.
If you would like more information on genetic types of periodontal tissues, please contact us or schedule an appointment for a consultation. You can also learn more about this topic by reading the Dear Doctor magazine article "Genetics & Gum Tissue Types."