Posts for: March, 2014
By Lake Oswego Smiles
March 18, 2014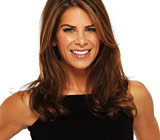 Anyone who has seen fitness and life coach Jillian Michaels on The Biggest Loser and Losing It with Jillian knows she has the expertise and determination to help overweight people reach new levels of fitness and health. Using her own difficult life experiences, Jillian is able to help others look below the surface to the roots of their own unhealthy lifestyles. As a child, she suffered from night terrors, then her parents divorced when she was 12. She reacted to her anger and unhappiness by comforting herself with food. By age 17 she weighed 175 pounds — too much weight for her small 5'2" frame. To get Jillian involved in physical activity, her mother signed her up for a martial arts class. It was the right choice. Jillian loved the physical and spiritual aspects of martial arts practice, and this training pointed the way to what ultimately became her career.
It's no wonder Jillian is concerned about America's obesity problem — especially in children. To counter it, she and a business partner put together a Wii game, "Jillian Michaels' Fitness Ultimatum." "If you turn exercise into a game, it's much easier to get kids to join in," she says.
For adults, Jillian is concerned with unhealthy body images put forward by the fashion industry and media. She says, "Educating women on the importance of a healthy diet and exercise program is essential, but getting them to realize that women are supposed to have curves is equally important." She is working on a new book, which is designed to help people live a healthy lifestyle, realize their true potential, and find happiness in just being themselves.
Since good health also includes good oral health, here's a sampling of what Jillian discussed about healthy habits in her interview with Dear Doctor magazine.
How can parents encourage their children to have healthy habits? Jillian says it starts with parents setting a good example. Parents can persuade children to get exercise by going outside to play with them. Gardening together and serving kids home-grown vegetables is a good way to encourage healthy eating.
What is her dental care routine? Jillian brushes her teeth two or three times a day with an electric toothbrush and she flosses daily. She never leaves home without toothpaste, an electric travel toothbrush, and floss as well as some sort of lip gloss. She sees her dentist, whom she calls "amazing," at least twice a year for cleanings.
How does she guard against damage from martial arts? Jillian broke her two front teeth as a child and had them repaired with crowns. Now she wears a mouthguard when doing vigorous exercise.
What other cosmetic dental procedures has she had? She also had braces and has had her teeth whitened.
Jillian knows that it takes hard work and commitment to health and exercise, along with good oral health habits, to look and feel your best. You can learn more about Jillian by reading the entire interview in the article "Jillian Michaels: The Biggest Loser's health and wellness expert talks about her oral health, keeping fit and plans for the future." Contact us today to discuss your questions about tooth whitening, crowns, or mouthguards or to schedule an appointment.
By Lake Oswego Smiles
March 03, 2014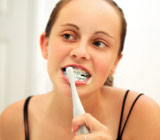 It's a recognized goal of modern dentistry to help you keep your natural teeth clean and disease-free, so you'll be able to enjoy them for your whole life. But dentists can't accomplish that goal by ourselves — we need your help! Maintaining good oral hygiene is the best way to ensure that your smile stays as healthy as it should be. Here are a few simple tips that can make a big difference in your dental health.
Use the right brush, and change it as needed. What's the right brush? Generally speaking, it's one with soft bristles that's small enough to fit your mouth comfortably. However, if you have trouble using a manual brush effectively (because of arthritis, for example), consider getting a good-quality electric brush. Change your brush when its bristles begin to stiffen or wear out. Ask us about proper brushing technique if you have any questions — and, of course, make sure to use a toothpaste with fluoride.
Floss — every day. Because no matter how hard you try, you simply can't reach all the areas in between your teeth with a brush alone — and that's where many cavities get started. Plus, when it comes to preventing periodontal (gum) disease, flossing may be even more important than brushing, since it can actually remove plaque (a bacterial film) from under the gums. So no more excuses — OK?
Stay away from sugary drinks and between-meal snacks. That includes sodas, cookies, and so-called "energy" drinks, which often pack a damaging one-two punch of sugar and caffeine. If you eat sugary treats at all, do so only after a meal. This will give your mouth plenty of "free time" to neutralize the acids that result when sugar is processed by oral bacteria. It's these acids that are the primary cause of tooth decay.
Avoid bad oral-health habits. Some you already know: smoking (or using tobacco products of any kind); excessive consumption of alcohol; chewing on pencils, fingernails, or anything else that doesn't belong in your mouth. But some you may not know: A clenching or grinding habit at night can cause serious tooth damage without you even realizing it. Getting an oral piercing increases your chance of chipping a tooth, and can lead to other problems. And playing sports without a mouthguard is risky business.
See your dentist regularly. You can do plenty on your own to keep up your oral health — but it's also important to see us regularly. When you come in for an office visit, we will check you for early signs of problems, and take care of any that we find… before they get bigger and harder to treat. We'll also make sure you leave with a sparkling smile that has been thoroughly and professionally cleaned.
If you would like to learn more about maintaining good oral hygiene, please contact us or schedule an appointment for a consultation. For more information, see the Dear Doctor magazine articles on "How to Help Your Child Develop the Best Habits for Oral Health" and "Oral Hygiene Behavior."